Wild At Heart
I recently went on a quick
road trip with my parents to visit relatives in Meadville, PA
and found some cool sights along the way. Over the summer I did a mini-travelogue of the NY side of Niagara Falls, including the Seneca Casino (of which I am going back this weekend to see Neal Sedaka), and I found a great shopping place for those who might travel this way and looking for something to do. Of course, you could also see a Buffalo Sabres game (they host Detroit on Dec 3rd) or a Buffalo Bills game (no Lions this year – doesn't it feel great to be 4-0).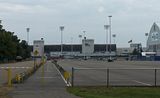 You could also pass on through if you are driving to NYC in case they need a game 5 to advance in the play-offs (great Game 2 Tigers). Anyway, just down the road from the Buffalo Bills stadium (about 15-20 miles) in
East Aurora is a wonderful five and dime called Viddler's
. While much bigger that when it first opened, the original building still has the original wood floors and candy counter, and the prices are very reasonable (I bought all my Christmas gifts for under $60 and got some cool stuff). They literally have 8 giant rooms of merchandise which is great for shopping and they do get a lot of tour buses.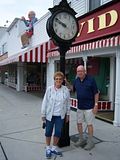 The town also has some nice restaurants and gift shops for those looking for a relaxing day.
Buffalo is also known for its Chicken Wings and it is one of the few areas where I can actually see what the fuss is about concerning wings. There are many great places but I ended up at a new chain in the area called
Quaker Steak which has a cool lunch buffet
with 4 types of tasty wings. I also liked the atmosphere with all the race car memorabilia around the place (oh year, that is my parents in these pictures).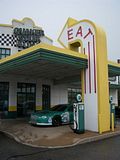 However, the Anchor Bar is the probably the best place to eat wings in the area, esp if you come out for a hockey game.
The rest of the trip went fun except for the generator fire at the hotel at 5AM. At least they had a nice pool and a great continental breakfast (complete with a Bloody Mary).
Meadville is very depressed right now since the relied on a lot of machine shops which just have the work and many have closed down. The area does have some nice restaurants around and this one attraction that I though was cool which a
bunch of walls and flowers made of old signs
. I thought these were really cool.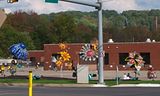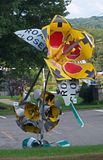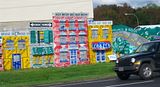 On the way home, we stopped in Salamanca, NY which is the home of a new casino and one of the greatest antique malls I have been to in recent years. Overall a great trip and it is nice just driving around and seeing new places. That was one of the things I loved around the Detroit area when I used to travel to all the little towns around Detroit looking for neat things to see and do.
It looks like I ran out of things to talk about so here are a few (and I mean few) concerts I recommend this week.
Wednesday (10/05)
– John Hiatt w/ Big Head Todd and the Monsters @ Michigan Theatre
Thursday (10/06)
– Bush @ Fillmore, Helmut @ Hayloft
Friday (10/07)
– Adrian Belew and Stick Men @ Magic Bag
Have a great week and see you next Monday.